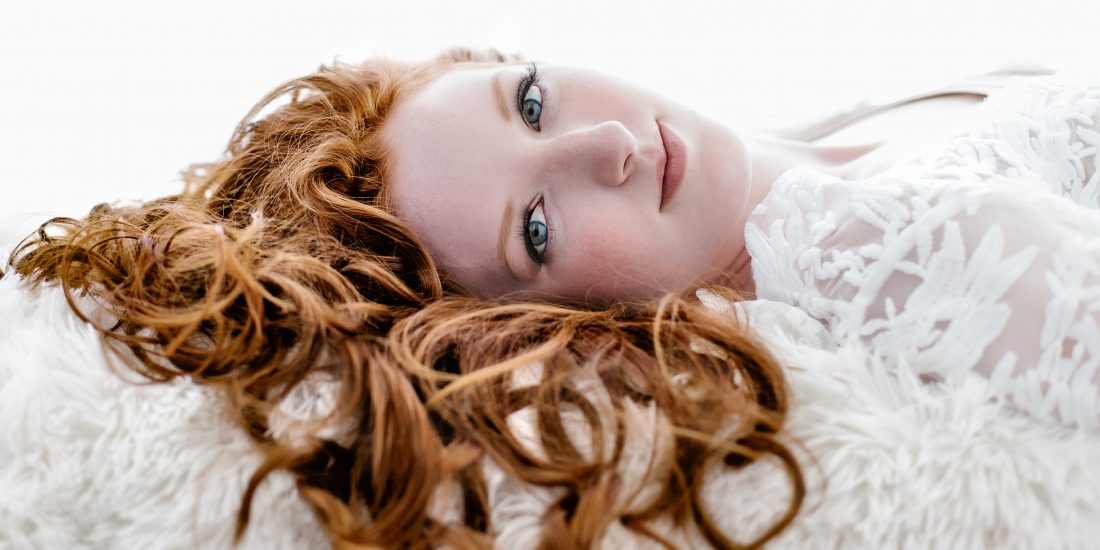 My career in the salon industry has always been an exciting creative outlet for me. I've been doing hair and makeup professionally since 1983, helping women look their very best. With my photography I'm also able to transform as well as capture the entire makeover experience with my camera.
Time does not stand still but a portrait will, and every woman deserves a beautiful portrait. At this moment we are older than we ever were and younger than we will ever be again. Think about that. Exist in photos.
I have a before and after gallery on my website where you can see more same day transformations so be sure to check it out. http://pamelatuckey.com/gallery/before-afters/ You can see more of Brittaney on my Portraits and Boudoir pages. Brittany was so much fun to work with, I have known her since the day she was born. I am a huge fan of red hair and freckles and she has it all!
To really bring out her beauty all I did was enhance her eyes with eyeshadow, brow makeup and lashes. Mac Cosmetics has a great powder called Wedge that doubles as a shadow or brow powder. Anastasia is also a great brow makeup resource and can be found at Sephora. Brows are so important to frame the eyes and draw attention to them, but are very often left out of the makeup routine. I took a workshop in Houston a couple of years ago and invested in airbrush makeup, which is superior for photography, video and a favorite of brides. I often wear it as my daily makeup.
Brittaney has gorgeous natural curly hair, but we decided on big loose waves for a tousled look. The end result was beautiful. Brittaney is stunning and not only my friend and one of my favorite subjects to photograph but always a popular subject in my all of posts as well.
To be able to take my ideas, my clients ideas and collaborate with them to create a whole new look is a very powerful and creative tool. I can see their beauty within and help bring out what was always there for them to see too. You never get a second chance to make a first impression, and hair and makeup factor into that statement heavily. It truly is your most important accessory. An outdated hairstyle can age a woman, so keep your hair current with the trends of the year. http://www.elle.com/beauty/hair/g29254/hair-trends-2017/
I just love the fact that I can take a woman from her natural beauty to magazine quality glamorous in the same day and create a complete makeover with hair, makeup and wardrobe styling. It is so empowering for my clients, as well as for me. To be able to capture the whole experience in an absolutely amazing photo session with a beautiful portrait that will last forever for generations to come is priceless.